Dent-line, a division of Central Dental, was generated by continuing efforts to supply the Canadian market with innovative and exclusive dental products that are designed for Dental Technicains and Denturists. Products ranging from attachments to visio.lign, a veneering system.
Canadian Owned and Operated
We represent Bredent attachments and products and Renfert equipment and sundries. We offer Canadians optimally coordinated stand-alone products, system solutions and "Made in Germany" treatment concepts. These enable Denturist and Dental Technicians to produce and maintain high-quality, cost-effective aesthetic restorations.
bredent Attachments Reference Manual
This reference profiles the very popular Bredent attachment system. It outlines our most commonly used attachments:
VKS-OC-SG
VKS-OC-SG Stud Systems
Attachment Retention Level Chart
Additional VKS-OC-SG Mini Assortment Kits
Diagen Turbo Grinders
Qu-Resin Reference and additional products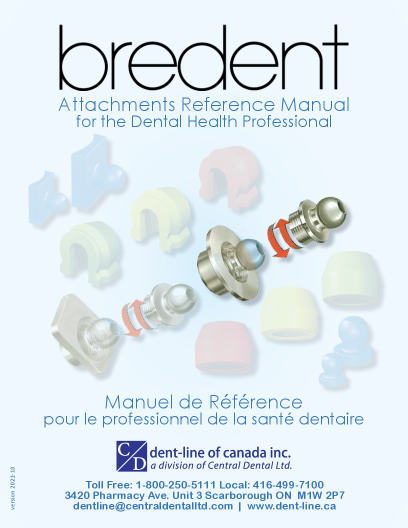 Location:
3420 Pharmacy Avenue Unit 3
Scarborough ON M1W 2P7
Canada
Email:
dentline@centraldentalltd.com
Phone:
800-250-5111
416-499-7100